To LOVE LOUD is to recognize and encourage the best within each other and ourselves.
Whether you're from Syria, Stockholm or South Dakota, LOVE LOUD is about creating empathy; it's about putting aside our differences in favor of our likenesses. It's about choosing kindness through our everyday actions.  

Be a part of our OFFICIAL LOVE LOUD MUSIC VIDEO and TEXT2DONATE to help us raise awareness so more kids and families can learn about our FREE program.

Text ROCKSTAR to 71760 to Donate

#helpmcp
LOVELOUD
BE IN OUR OFFICIAL LOVE LOUD MUSIC VIDEO & HELP RAISE AWARENESS TO BRING MORE CONCERTS TO KIDS
"How to" Submit Your Video
Sing (or lip-sync) the chorus of the song "Love Loud" and upload it here to be a part of our music video and help support hospitalized kids.   Let's show the world how we #LoveLoud.
STEP 1 – Record yourself or a group of friends singing (or lip-syncing) the chorus of Love Loud
STEP 2 – Upload your video to the left (make sure to click submit video)
STEP 3 – Choose one or more of the following ways to show your support :
          (1) Share this page on social media with the hashtag
          #helpmcpLOVELOUD and ask your friends to submit a video too
          (2) Change your profile pic on Facebook using our LOVELOUD filter
          (CLICK HERE for filter)
          (3) Make a donation in the amount of your choice  (text ROCKSTAR to 71760 -or- DONATE HERE)
(Chorus)
Love Loud
Oh oh oh oh oh oh oh oh
#

helpmcp

LOVELOUD

Text ROCKSTAR to 71760 to help bring live concerts to children in hospitals
Love Loud Lyrics
Calling out this is a shout gonna raise my voice and my head up proud
With a steady mind and a heart that's sound this is the time to love loud
Come on brothers sing if you're tired of the lies violence and greed,
Can't blame others if you and me won't raise our voice and love loud
We're so divided got to break walls down and be united
This is the new anthem and if you like it
Lift your voice and love loud
(Chorus 1)
Love Loud
Oh oh oh oh oh oh oh oh
This is the new song
If we lift our voice as one
We'll drop a love bomb
We'll take this world by storm
(Chorus 2)
Love Loud
Oh oh oh oh oh oh oh oh oh
(Bridge)
Cause it's a new day or it's the same old same old fall in line or break the mold
We can rise up or cave in resist or listen
The message is clear it's of fear and submission
Don't be that broken, this is our moment
Turn your TV's off and shout from the rooftops
We've been waiting for something to change
Silent most of our lives
It's time for us to wake up and engage
This is our battle cry
(Chorus 3)
Love Loud
Oh oh oh oh oh oh oh oh oh
Love Loud!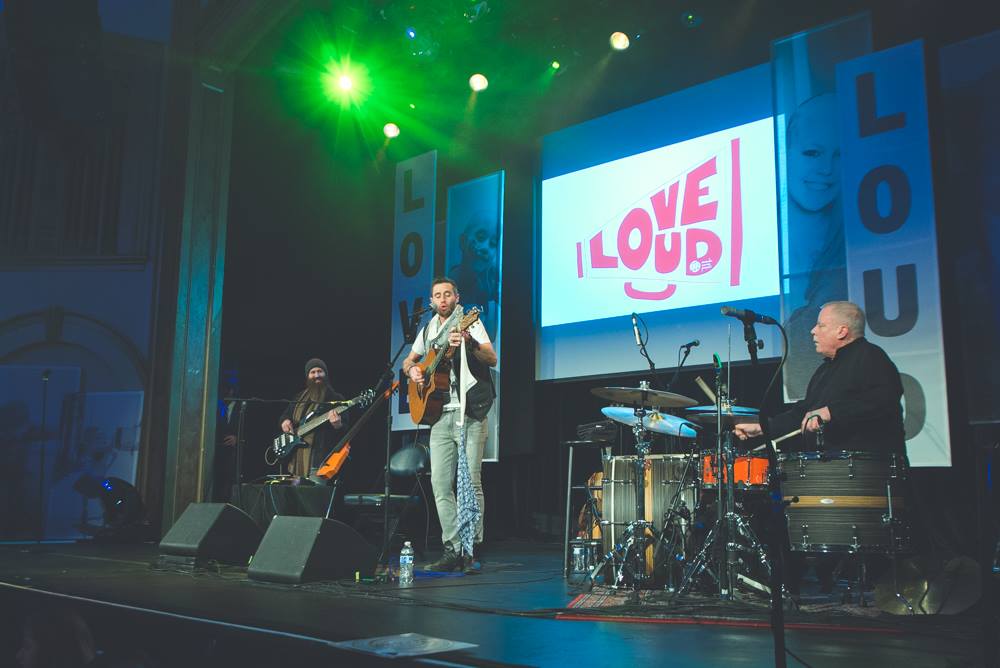 LOVE LOUD was written by Melodic Caring Project Founder and President, Levi Ware, in 2014 as a cry for action inspired by the project he and his wife, Stephanie, founded eight years ago to support kids battling serious illness by streaming LIVE personalized concerts to kids in their hospital rooms. 
In a time tinged with discord, LOVE LOUD is a call to choose grace and compassion, to inspire empathy in action.
In early 2017 the song was recorded in collaboration with Woodstock icon and Rock & Roll Hall of Fame drummer, Michael Shrieve. The song is created to be a global artist collaboration aimed to inspire artists to create their own version of LOVE LOUD using the original studio tracks along with their own recorded tracks.
Whether it be pop, rock, country, a remix or your own original version, LOVE LOUD is intended to bring artists together to raise their voices as a community and show the world how they LOVE LOUD.