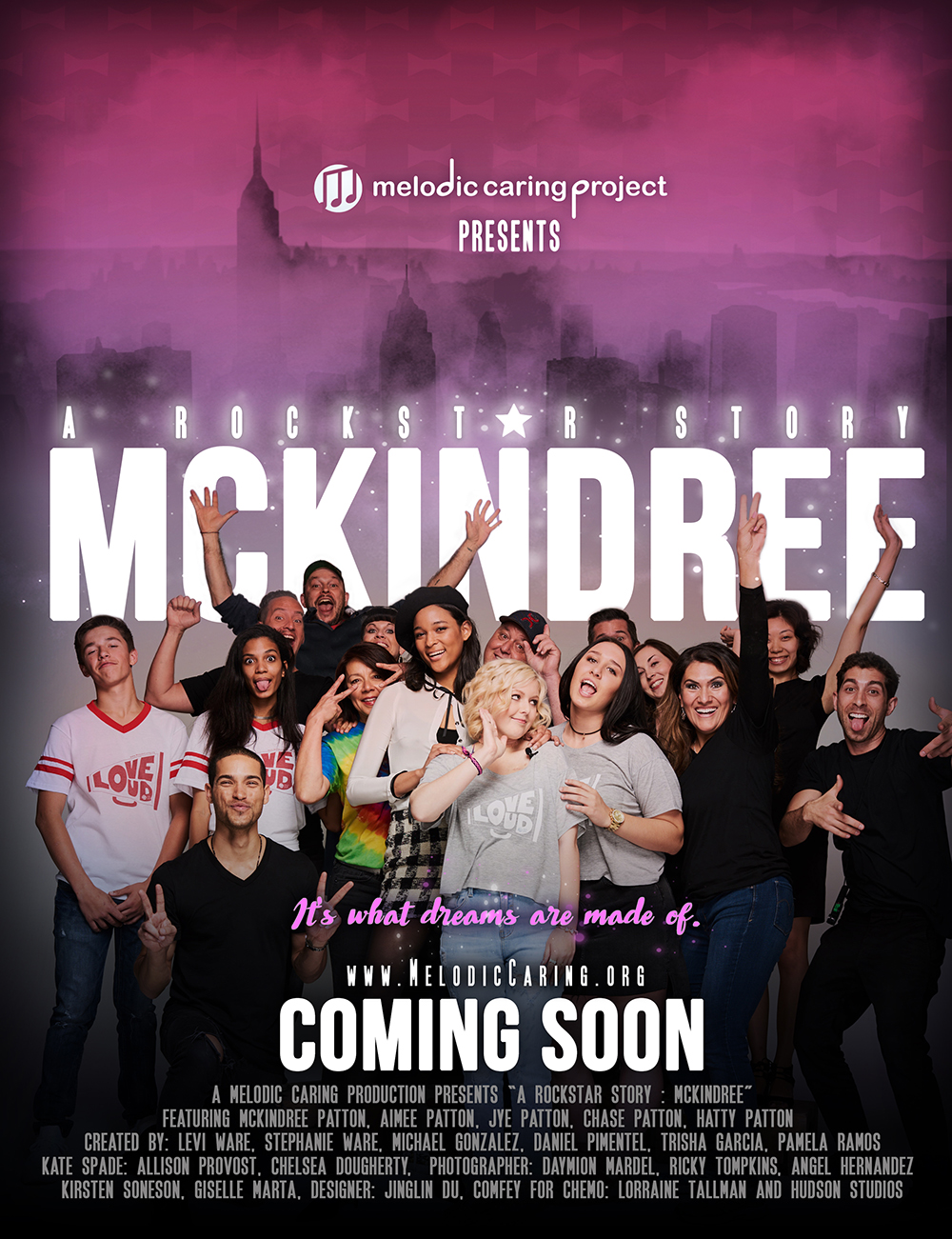 Birth of #rockSTARstories
By Melodic Caring Project
It was a moment…only a moment. Something sparked. What started as an interview grew into something…magical.
For young rockSTAR, Mckindree Patton, a storm had wiped away the crops she worked so hard to plant. She wanted to be a professional gymnast, and worked hard at it. But when she was diagnosed with a rare form of bone marrow failure (similar to AML Leukemia), her dream came to an abrupt halt.
A rockSTAR story was born.
We sat down to interview McKindree (Kin) and her mother, Aimee Patton, to hear their story and how Melodic Caring Project (MCP) had become "a big part of it."
During many stays in the hospital, and often at home in between treatments, Kin had been a recipient of numerous MCP live-streamed concerts where artists such as Jason Mraz, Rachel Platton, and Chris Daughtry would give personal shout-outs of love and support to her by name. We asked McKindree to tell us how it made her feel and what started as an interview grew into something… magical.
During the interview, Mckindree expressed her heartbreak over gymnastics and the loss of it. "It was my dream and….life is just very different now."
As we listened, we couldn't help but feel that deep pain of loss for her. What do you do when the things you love are stripped away? Once a huge part of her life, gymnastics now left an emptiness—a hole of what should have been and McKindree's life was turned upside down.
But not all was lost. "Music was a huge part of [Kin's] healing process," explained Aimee Patton. During a 10-month stay in the hospital, Aimee would place headphones with some of Kin's favorite music over her ears "and although she couldn't really speak and communicate with us, we knew it was calming to her soul."
"I was having a very hard time during transplant and needed a little uplifting…music does that for me."
After hearing about MCP through a Child Life Specialist, McKindree found more than music to calm her soul—she found support from people, artists, crowds and full venues cheering her name. "This is really exciting…these stars are shouting your name out…it feels like they know you…and are cheering you on to do your best in this journey that's really hard…to win, fight, keep fighting…it's just really awesome."
In addition to music, we found out that McKindree also discovered a passion for fashion and photography. As a creative, Kin created her own blog where she talks fashion, photography, and life as she now knows it. In fact, Country super-star Garth Brooks surprised Kin with a brand new DSLR camera to help support and inspire her to share her love of fashion and creativity.
As our interview neared its end, we were amazed by the beauty of McKindree's story. Each family we've had the privilege of meeting along this MCP journey radiates this beauty—sharing a common denominator of humility, kindness, wisdom and strength. I think that is our hope for #rockSTARstories. To tell each rockSTAR's story and share with the world the beauty of ALL that is their story.
It was this moment that sparked events that can last a lifetime.
As we worked on completing Kin's video, prepping for our upcoming Gala in which Kin and Aimee would be speaking, we were reminded of her love of fashion. During the interview, Aimee mentioned Kin's favorite designer was Kate Spade NY and as luck would have it, we had a connection. And as luck would also have it, Aimee and Kin were going to New York in April, just one month away. Our minds continued to spin and plot, what more could we do?
With less than a week until the Gala, and thanks to MCP's own Creative Content Director, Michael Gonzalez and NY Model, Daniel Pimentel, we were able to get in contact with Kate Spade NY who immediately jumped on board to help make Kin's night extra special by over-nighting two designer dresses valued over $2,000. (special thanks to Kate Spade's Allison Provost & Chelsea Dougherty!)
Our hearts were singing. We couldn't wait for the Gala and see the joy on Kin's face.
The day of the Gala, the day of the big surprise(s)
Everyone was in high gear readying for the big night. The oversized photos and "Love Loud" prints were being hung from stage, tables were being set. The atmosphere was alive and buzzing with anticipation.
The clock was ticking, its time. The dresses arrived in Uber fashion. As we tried to contain the excitement bursting from within us, we sat Kin down for an "interview" and started talking fashion, leading the way to the big reveal…
And when Kin said "My favorite designer is Kate Spade," we said, "Guess what…we contacted Kate Spade….and they sent you a gift…" Excitement erupted, her jaw dropped. With shaking hands, Kin unzipped the garment bag now hanging in front of her and with many "oohs and ahhs" fell in love with the dresses.
The best was yet to come
Surprise after surprise, the good kept coming. As the lights went dark, Kin's rockSTAR story began to play on the big screen. The audience fell silent. It was an emotional moment, if you were there, you could feel it. As the video ended and the lights came back on, Aimee and Mckindree were illuminated on stage (McKindree of course shining in her beautiful designer dress thanks to Kate Spade NY!). The crowd cheered, offering love, support and a standing ovation. Aimee was fighting tears. In a touching testimonial, they spoke about the importance of MCP and the impact it had in their lives "during some of their darkest hours."
As they began to walk offstage, our host Kim Holcomb (KING5 Evening) stopped them, "We have another special surprise for you…." leaving Kin again speechless. On the big screen played a video of NY model and friend, Daniel Pimentel, at the Kate Spade store in New York. Tears, excitement, and gratitude radiated from Aimee and Mckindree as Daniel revealed that Kin would have her very own private fitting at Kate Spade NY and take home a clutch of her choice.
Moments like this, behind the scenes, fuel the fire….
Later that night, Faith, another young MCP rockSTAR and co-host of the gala walked up to Mckindree and said, "I just wanted to let you know how much I admire you and everything you have been through. I really look up to you and I've been so excited to finally meet you!" Hearts aligned. Often times its moments like this, behind the scenes, that helps fuel the fire of everyone at MCP leading us to wonder and ask…
"What more can we do?"
New York weighed heavily on our minds. How can we encourage growth in the form of creativity? One idea led to another idea and pieces of the puzzle began to form.
We wanted to create a true rockSTAR experience for Mckindree and New York was the perfect place.
After only a few weeks of conspiring with New York creatives and Mckindree's mother Aimee, everything was set. They were about to arrive at the hotel. "5 blocks away" Aimee texted. "Pulling up now." The car was in sight. We ran up with lights and camera's as Mckindree's back was facing us. It was perfect, she didn't see the crowd of people running up, anxious to greet her. "Welcome to NEW YORK MCKINDREE!" As everybody cheered. People on the streets came up and started cheering without knowing who she was.
As we filmed on the streets of NY that night, people would snap photos and ask, "Who is she? Is she a singer or something?"
"She's a rockSTAR"
To be continued…
Stay tuned for the next chapter of McKindree's #rockSTARstory and movie coming soon!